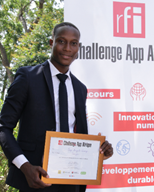 [ad_1]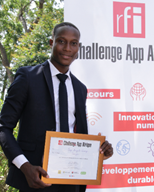 The third edition of the RFI Challenge App Africa Prize, which took place in Cotonou on Tuesday, November 13, 2018, rewarded Serge Auguste Zaongo for his "Saagga" project.
"Saagga" is an application designed to monitor agricultural irrigation. Electronic cards with computer programs make it possible to optimize irrigation from cultivated fields.

This year, the RFI Challenge App Africa Award is intended to promote the integration of new technologies in the field of sustainable development.
Thanks to the support of partners "RFI Challenge App Africa", Benin MTN, Microsoft, Société Générale and Africa Global Recycling, the winners won € 15,000 in grants for the development of digital services, including mobility, through Francophone Africa.
The Nobel laureate was a guest of Anne-Cécile Bras, in a special event "C & # 39; est pas du vent"
recorded in public on Tuesday, November 13 at the French Institute of Cotonou with the theme "Digital, accelerator of sustainable development in Africa?".
Broadcast at RFI Thursday, November 15 at 14:10 (Cotonou time).
The third edition of the RFI Challenge App Africa lists more than 600 applications and 90,000 views on Facebook.
Award for this third edition
– Winner: Serge Auguste Zaongo (Cameroon) for "Saagga"
– Finalists: Tiam Erik Gyslain (Cameroon) for "Agropad" and Joseph-Olivier Biley (Cote
d) Ivoire for "We fly Agri"
– Special mention: Johannes Goudjanou (Benin) for "Premium Hortus"
About RFI Challenge APP Africa:
Launched in 2016, the RFI Challenge App Africa is a competition, which is linked annually to the RFI program and delivered in French-speaking African countries, which aims to develop Internet citizens by encouraging projects for publicly attractive services.
Dedicated to the health and education of girls, the first two editions were given in Dakar in 2016 Cheick Oumar Bagayoko (Mali), a young physician and computer scientist for their applications for "Bogou" and Abidjan medical telephones
in 2017 Raissa Banhoro (Ivory Coast), for the functional literacy application "Lucie".
[ad_2]

Source link