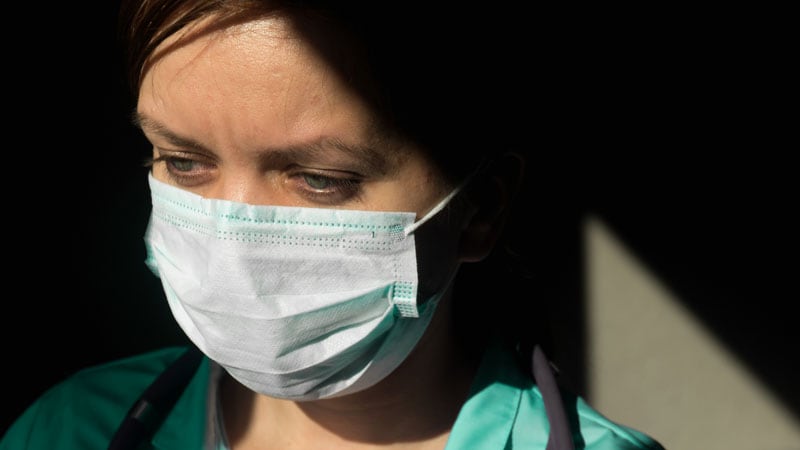 Editor's note: Find the latest news and recommendations on COVID-19 in Medscape Coronavirus Resource Center.
The COVID-19 pandemic continues to take its toll on the well-being and job satisfaction of health care providers, illustrates a new survey of more than 5,000 clinicians at the Academic Medical Center.
About 1 in 5 people said they were considering leaving the workforce because of work-related problems during the COVID-19 pandemic. In addition, 30% said they were considering reducing working hours.
"There are a significant number of employees and trainees experiencing severe stress and disruption due to the pandemic," said lead author Rebecca K. Delaney, PhD. Medscape Medical News. "Of particular concern is the fact that people who have spent five or more years in training specialize are struggling with their work so much that they are even thinking of leaving the workforce or reducing working hours."
"Being an educator adds another level of difficulty to faculty, staff, and students trying to manage the work and care of children," added Delaney, a researcher in the Department of Public Health at the University of Utah in Salt Lake City.
The study was published online April 2 JAMA network is open.
"It looks like a great survey," said Carol Bernstein, MD. Medscape Medical News on request to comment. "I don't think it gives particularly new information, because these problems in the workplace, especially for women during COVID, have so far been well documented in the media and medical literature."
"However, to the extent that the data helps to find solutions, I hope that such information will be considered a strong additional proof that health systems should pay close attention to the well-being of the workforce," added Bernstein, professor and deputy chairman. Faculty of Development and Welfare of the Faculties of Psychiatry and Behavioral Sciences, Obstetrics and Gynecology and Women's Health Montefiore Medical Center / Albert Einstein Medical College, New York.
When a pandemic gets home
A total of 42% of the U.S. workforce quickly moved to work from home with the onset of the COVID-19 pandemic. At the same time, many employees had to help with child care and help with schoolwork. This has made it difficult for many people in academic medical centers, and women in particular.
"Women make up 74.9% of hospital staff, many of whom are needed clinical staff," the researchers note. "The extent of the needs and difficulties of these workers during the pandemic remains largely unknown."
To learn more, Delaney, senior author, Ph.D. Angie Fagerlin and their colleagues emailed a Qualtrics survey of 27,700 faculty, staff, and students at the University of Utah. The survey was conducted on August 5-20, 2020 as part of a quality improvement initiative. All responses were anonymous.
Survey questions included when, due to a pandemic, people considered leaving the workforce, considering reducing the working day, or reducing productivity. The researchers also asked about the impact on careers and potential decisions in terms of "adapting to work culture".
Respondents with children under the age of 18 were also asked about childcare options. Delaney and colleagues also inquired about race and ethnicity, as they suggested that members of underrepresented groups were likely to experience the pandemic differently.
The average age of 5,951 (21%) teachers, staff, and students surveyed was 40 years. The majority of respondents are women, which reflects a larger share of women in the health care system.
The majority, 86%, identified white or European Americans. About two-thirds of respondents were staff (66%), 16% teachers and 13% listeners.
Career Challenges COVID-19
In total, 1,061 respondents (21%) "moderately or very seriously" considered leaving the workforce, and 1,505 (30%) to reduce the number of hours. Respondents who were younger, married, members of an underrepresented racial / ethnic group, and worked in a clinical setting were more likely to consider leaving the workforce.
The survey found that 27% believe their performance is increasing and 39% believe their performance is declining.
Of the 2,412 survey participants with children aged 18 and under, 66% reported that they did not have fully accessible child care.
"Failure to address issues and care for children has long been one of many significant shortcomings in U.S. health care systems," said Bernstein, lead author of a report on emotional support for staff at Montefiore Medical Center during Joint Journal of the Commission on Patient Quality and Safety .
In addition, 47% were "moderately or very seriously concerned" about the impact of COVID-19 on career development.
Women trainees were much more likely than male colleagues to consider leaving the workforce and reducing working hours. Women as teachers or trainees were also more likely to worry about the impact of COVID-19 on their careers compared to men and compared to women in full-time positions.
"It was frustrating when our data supported the gender and racial / ethnic disparity that was noted in the media during the pandemic," Delaney said. "Women, and in some cases racial / ethnic groups who are underrepresented in medicine, were more likely to consider leaving the workforce, reducing the working day and worrying about developing their careers.
"It is very important that we strategically address these important imbalances," she said.
According to a Medscape analysis, women also suffer disproportionately from burnout, especially during a pandemic. "Death from 1,000 Thousands of Cuts": A Report of Burnout and Suicide.
In addition, the pandemic COVID-19 has moved medical specialties, which are now considered the highest risk of burnout: the first place is occupied by doctors, and in the report of rheumatologists and infectious diseases.
Potential solutions
"Given the disproportionate impact of COVID-19 on health care staff, institutions need to find ways to support their staff both in terms of cultural adaptation in the workplace and in helping with family responsibilities," the researchers note.
Remote work policies, planning flexibility and expanding employee support programs are potential solutions. Institutional policies may also take into account the educational and immediate care needs of staff children.
Limitations of the study include its generalizability outside of Utah University of Health staff. Respondents also included a smaller proportion of racial and ethnic groups compared to national indicators, "although this is largely due to the overall low number of such groups in Utah," the researchers add.
"Our results show that respondents fought during the COVID-19 pandemic," the researchers note. "As a result, even after investing a significant amount of time in years of training, many considered leaving the workforce because of the stress and care responsibilities associated with the pandemic."
Presidential endowed chairman John M. Huntsman backed the work with a financial award to Fagerlin. Delaney and Bernstein do not disclose any relevant financial relationship.
JAMA Netw. Open. Published online April 2, 2021. Full text
Damian McNamara this is the staff journalist from Miami. It covers a wide range of medical specialties, including infectious diseases, gastroenterology and medical care. Follow Damian on Twitter: @MedReporter.